Just a reminder to our ICHS students...who need community service hours for graduation...this weekend is Easton's Sesquicentennial Celebration. The organizers would appreciate help from students to supervise bounce houses. The times are this Friday from 4 to 8 & Saturday from 10 to 8. This would be an opportunity to get some of those community service hours out of the way. If you have any questions...contact Margo Kreiling at 217-737-0353. #WeAreIC #BeJimmy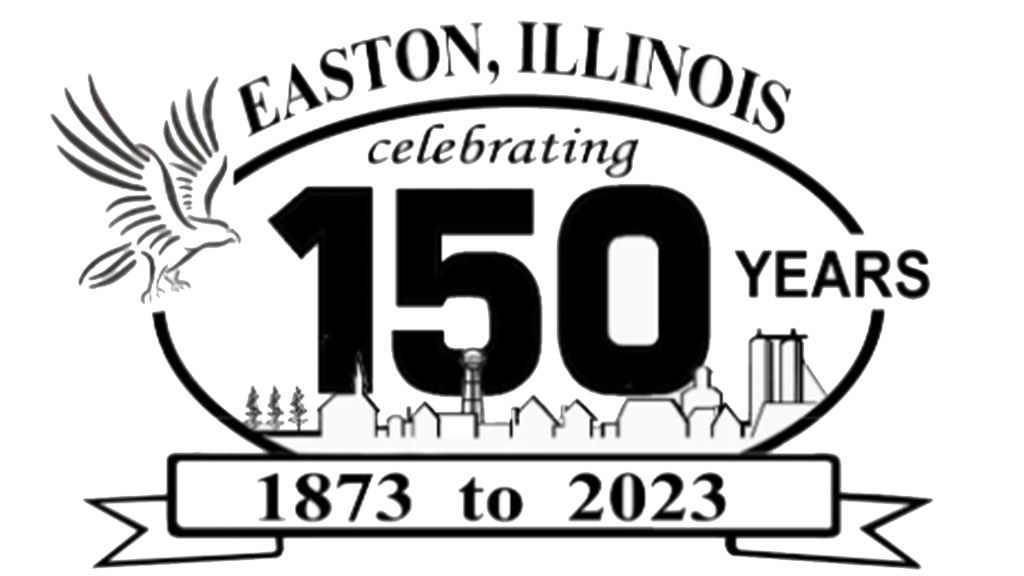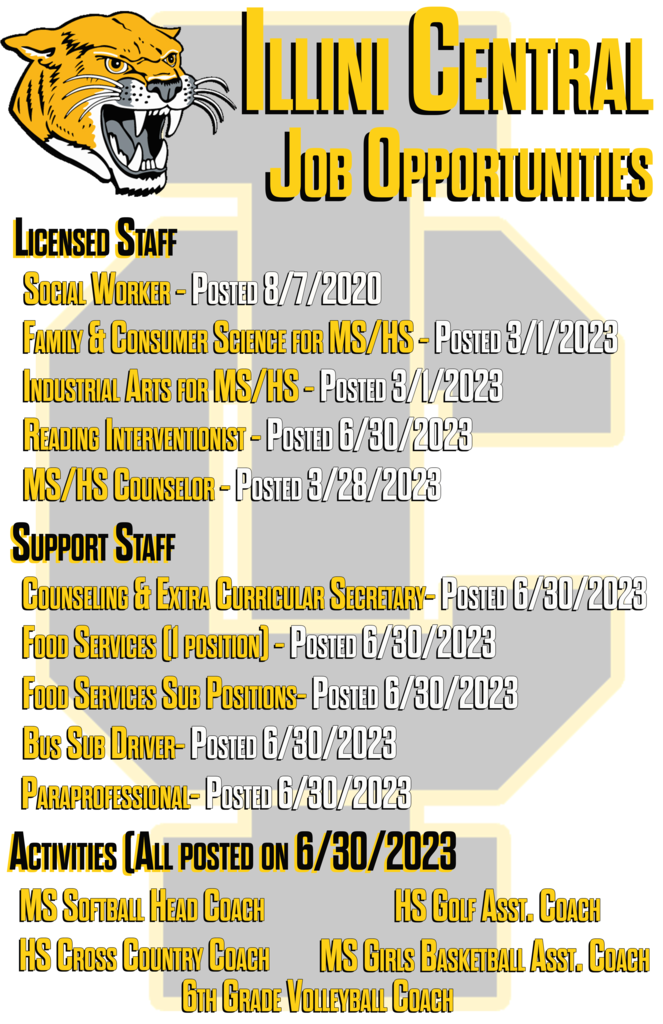 The IC Board of Education will hold its June meeting on Tuesday, June 20th, 2023 at 7:00 pm at the Mason City Public Library. The google meet link is meet.google.com/gov-sgxb-yzo

Free Children's Books! Illini Central has a number of children's books that we would like to find good homes as we begin shuffling spaces prior to the start of our new building project. The school will be open on Wednesday, June 21st from 3:00-4:30 and again from 6:00-7:00. Please enter through Door A (the HS front door) during those times if you are interested. Thank you & have a great weekend! #WeAreIC #BeJimmy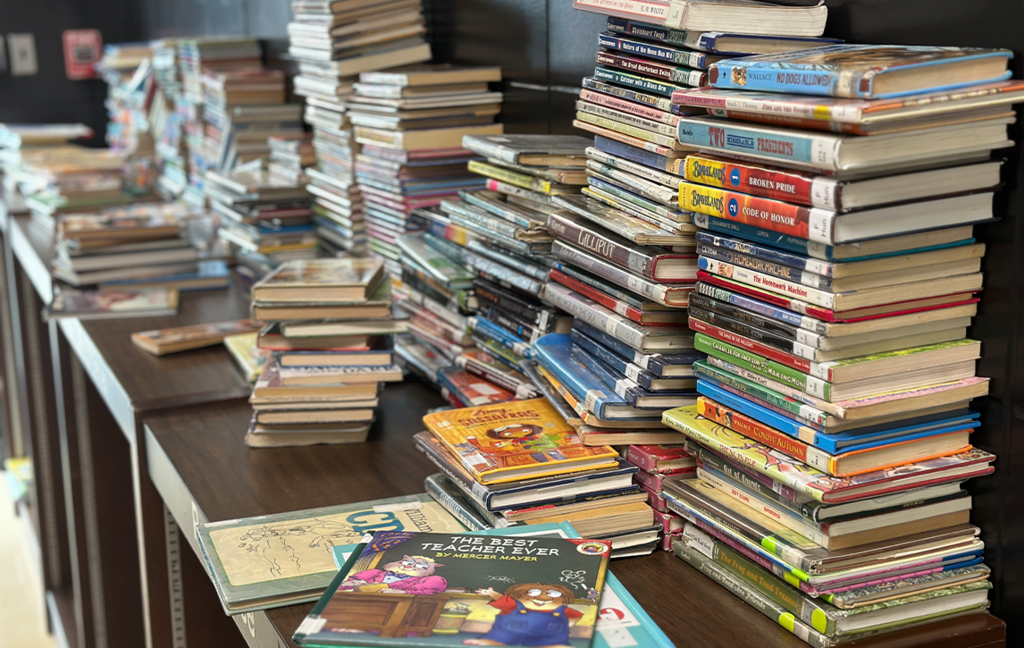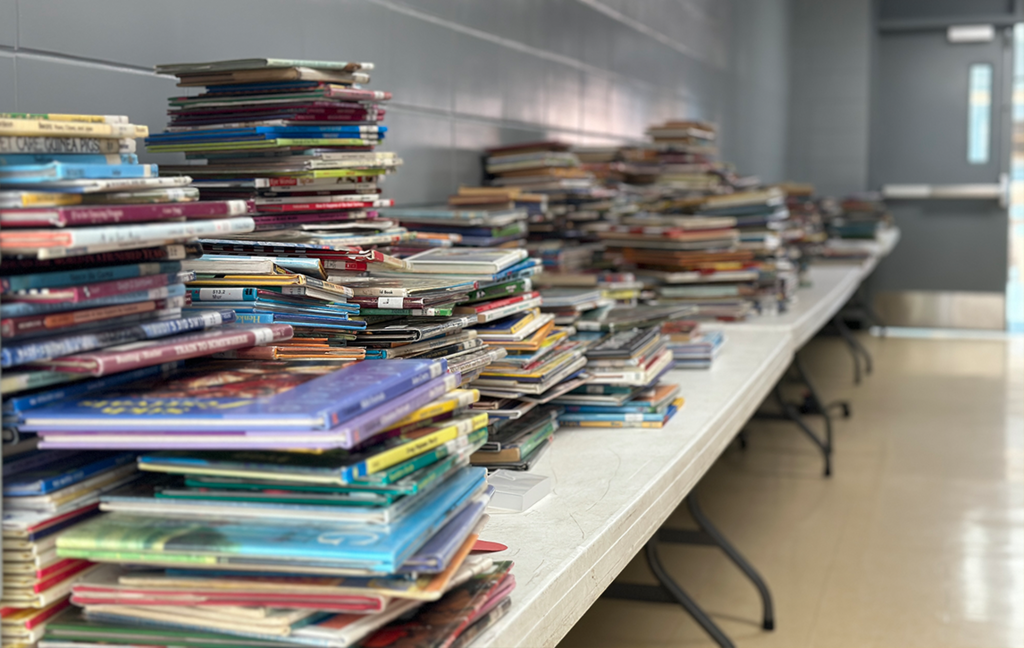 Illini Central Summer School Program 2023 will include breakfast and is open to the community for children 18 and younger from 7:35 am – 8:00 am in the cafeteria on the following dates ● June 13, 14, 15, 16 (Tues-Fri) ● July 10, 11, 12, 13 (Mon-Thurs) ● June 20, 21, 22, 23 (Tues-Fri) ● July 17, 18, 19, 20 (Mon-Thurs) ● June 27, 28, 29, 30 (Tues-Fri) ● July 24, 25, 26, 27 (Mon-Thurs) Summer School Breakfast menu can be found on the ILLINI CENTRAL web page
https://www.illinicentral.org/
Have a Great Summer! The USDA and this institution are an equal opportunity provider.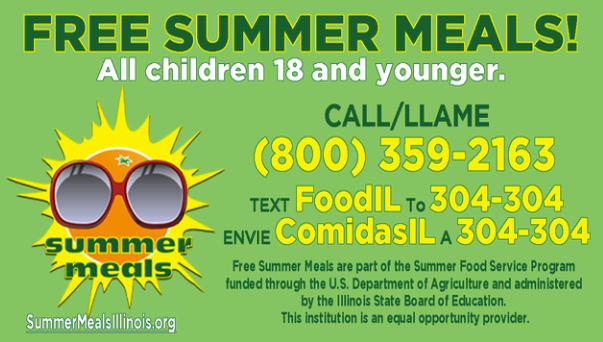 Parents of the Class of 2024, You should have received an email containing a survey. Please complete this survey by Friday, June 9th at noon. If you did not receive this survey please reach out to Kris Kloba or Annie Baugher.
kkloba@illinicentral.org
abaugher@illinicentral.org
Thank you!

ICGS Kindergarten teacher...Mrs. Megan Nissen found this video she made at the end of the 2010-2011 school year. The video is filled with memories from the kids she had as students that year. Those kids graduated from IC this past Sunday. Time sure does fly... Here is the link:
https://youtu.be/D-Uk8wqdy30
Enjoy. #WeAreIC #BeJimmy

Tomorrow...Illini Central's Senior class...the Class of 2023 will graduate from high school. Please come out at 2 p.m. to help us honor these terrific students. If you are unable to attend or have family or friends who would like to view the ceremony...we will be broadcasting live from the Illini Central Cougars YouTube Channel at the following link:
https://youtube.com/live/6qW9weTKZNQ?feature=share
Congratulations, Class of 2023! You will be missed. #WeAreIC #BeJimmy

Last Thursday, the Illini Central FFA held their annual petting zoo. It was a beautiful day for this event that is loved by all of the IC students. Here is a video with some photos & videos taken by The Class:
https://youtu.be/N3ANFlQxxws
Thank you to Mr. Allen, Ms. Bohannan & all of the FFA members that make this event happen for the students of Illini Central. #WeAreIC #BeJimmy

The Class of 2027 will be promoted to high school on Wednesday night with our Commitment to Graduation Ceremony that begins at 6:30 p.m. We will be live streaming the event at the following link:
https://youtube.com/live/W11jyAnyvZM?feature=share
#WeAreIC #BeJimmy

Tomorrow afternoon...Illini Central will be hosting their 2023 ICHS Awards Ceremony. We will be streaming this event LIVE at the following link beginning a little before 1:30 p.m. Here is the link to view the ceremony on the Illini Central Cougars YouTube Channel:
https://youtube.com/live/WeyEaZv7DcU?feature=share
#WeAreIC #BeJimmy

The IC Board of Education will hold its May meeting Thursday, May 18 at 7 pm at the Mason City Public Library. The Google Meet link is meet.google.com/niv-qtkm-oqd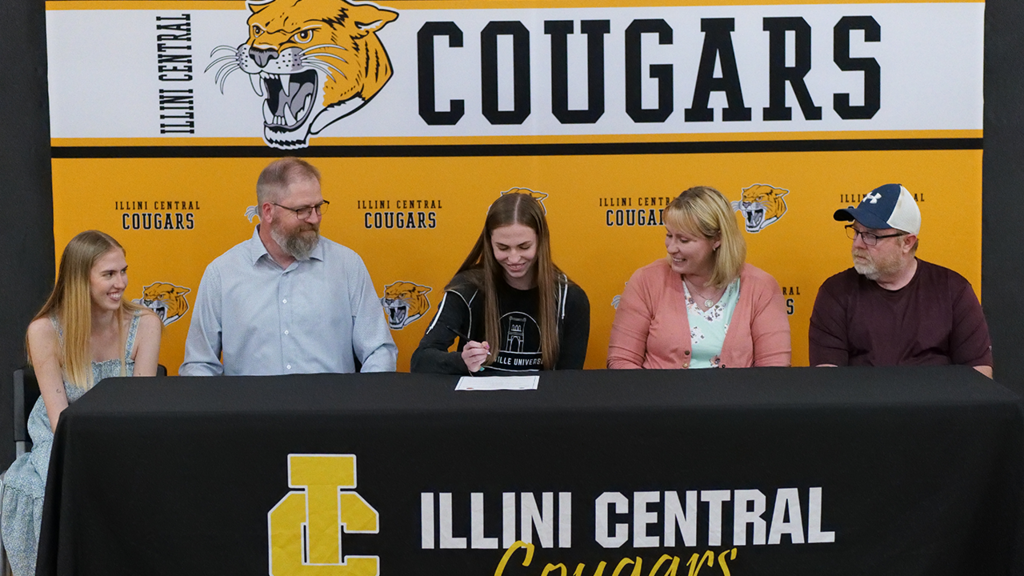 Earlier this week...we shared that Senior Mireya Francis was named April Student of the Month. Today, we are posting The Class's Cougar Connection Podcast episode from last week when Mireya sat down with Kamber Arthalony to discuss her plans for the future, why Mr. Tobolaski is her favorite teacher & much, much more. Here is the link:
https://youtu.be/y7UNXWZStV0
Enjoy! #WeAreIC #BeJimmy

Alliance Community Bank of Mason City and Illini Central High School are pleased to present Mireya Francis with the April Student of the Month Award. For demonstrating outstanding character, Mireya receives an Amazon gift card from Alliance Community Bank and an Amazon gift card from the Illini Central High School faculty. Mireya is the daughter of Gina Francis. Her classes this year include Transitional Math, Graphic Design, Fitness, Government and Civics, Advanced Spanish IV, Literature and Film, and Independent Art. Mireya serves as the reporter for the Spanish National Honor Society and the treasurer for Student Council. She is also a member of the National Honor Society, Spanish Club, Math Honor Society, and Art Club. Mireya is also involved with golf and cheerleading. In her free time, Mireya volunteers at the nursing home. After graduation, Mireya plans to attend Illinois Central College and then transfer to Illinois State University. She plans to pursue a career in elementary education. Congratulations, Mireya! Thank you for all of your contributions to Illini Central over the years. We are wishing you nothing but the best. #WeAreIC #BeJimmy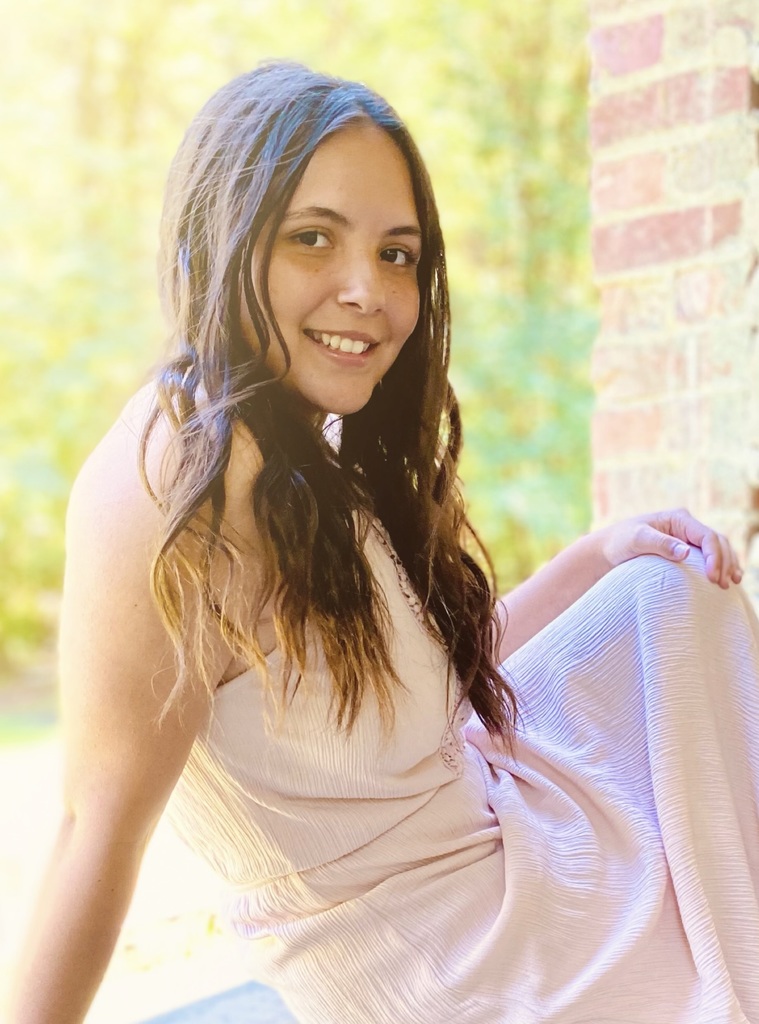 IC schools have lifted the soft lockdown. Pre-K transportation will resume, but may be a few minutes late. All other school activity has resumed as normal.

The morning Pre-K dismisses at 10:30. Bus service will be delayed until the soft lockdown is lifted. We will notify parents via text when this occurs.

Illini Central schools are currently in a soft lockdown. There is not a threat to the school, students or staff. This is at the request of the Mason City Police Department in response to actions they are performing in the community.

Just a reminder...Promenade starts at 4 p.m. tomorrow afternoon (Saturday, May 6th). Any students who are walking through the promenade must arrive at the school before 3:45 p.m. The dance begins at 8 p.m. & will be over at 11 p.m. #WeAreIC #BeJimmy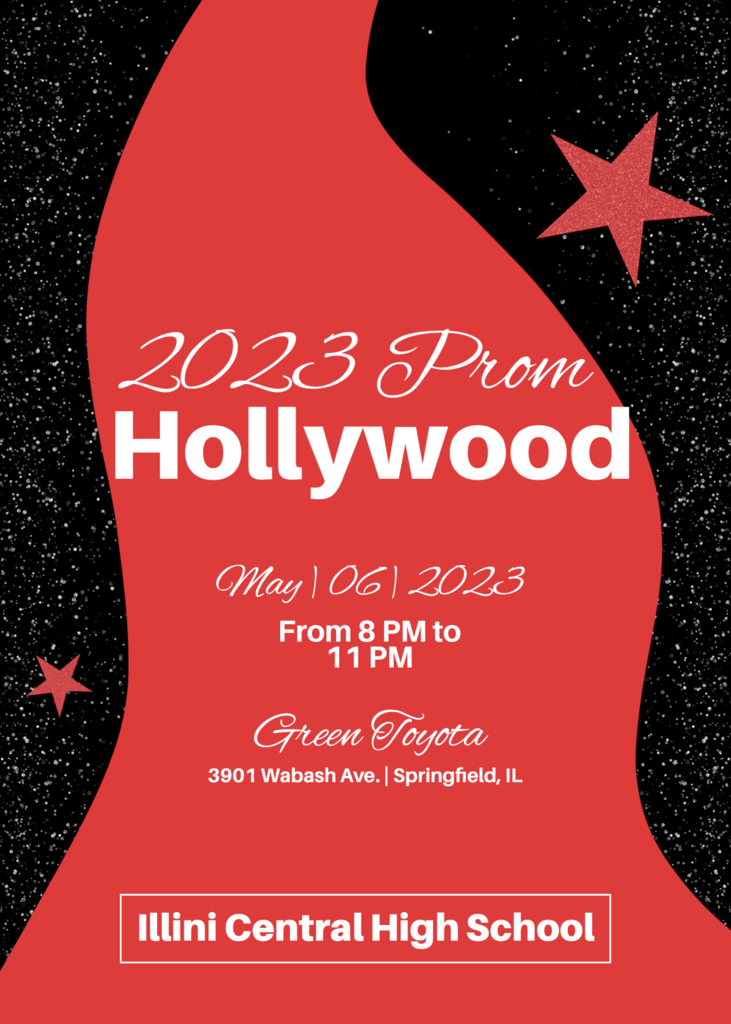 A big "Thank You" from the ICGS 2nd Grade to Kreiling's Dari-Belle for a sweet treat as they count down to the end of the school year! #WeAreIC #BeJimmy